Book your family's 2020 Christmas Mini Session now! With four amazing backdrops to choose from, week day and weekend appointments available, BOOK NOW before they all sell out!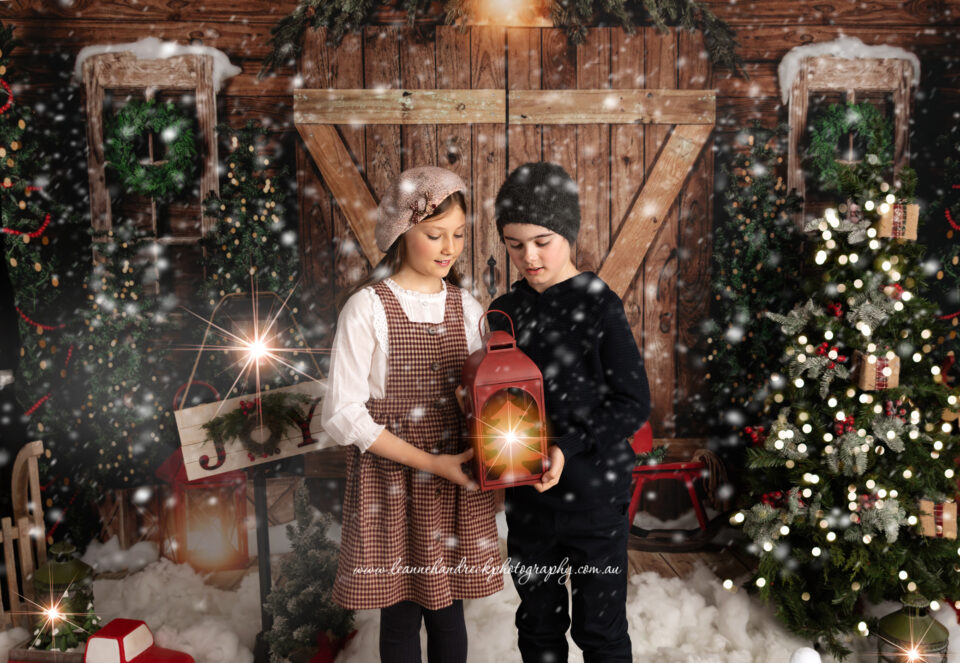 $180.00 per session (a 50% deposit of $90 must be made to secure booking)
The Mini Session includes:
A fully styled, 30 minute session with several outfits and accessory options to borrow from my studio wardrobe if you don't have your own.
Professionally editing with special effects added to give these stunning photos their finishing touches
5 high resolution digital (print-ready) images
5 matching low resolution digital images, perfectly re-sized for social media and emailing
One (1) 8×12″ fine art photographic print of your favourite image
a stunning Christmas collage Facebook timeline to show off your beautiful family photos
Digital download of your images from the comfort of your own home
Mums and Dads, you are welcome too, these aren't just for the kids!
***** All sessions will also now include a beautiful digital Santa portrait ****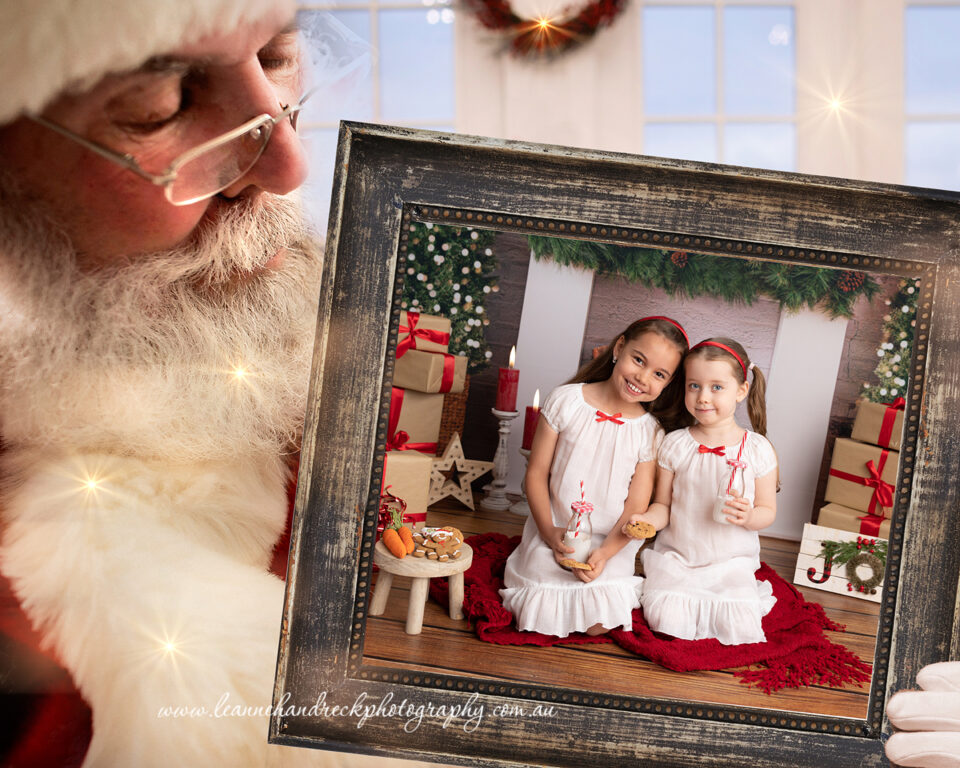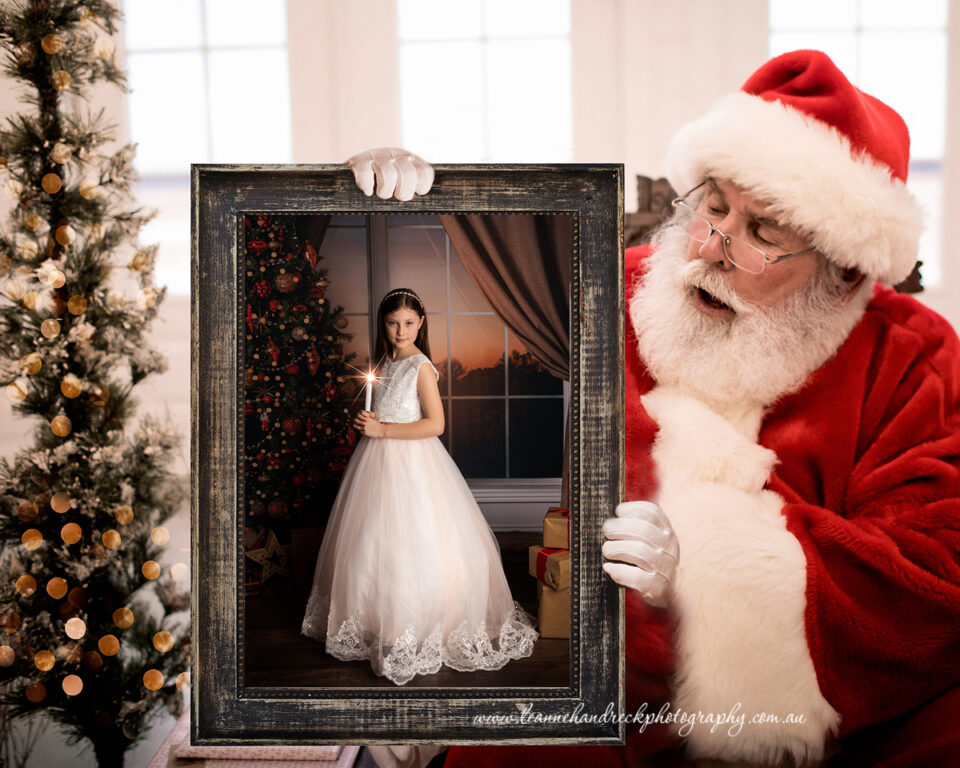 A range of stunning wall art and printed product, including
Christmas cards and metal Christmas tree ornaments are also available.
Please allow adequate time before Christmas to design, order, print and deliver.
So how do I book?
Choose your favourite backdrop below
Click on the Link below and click 'Find Next Available' to skip to that settings booking dates and items
*** Make sure you check the date you are booking is for the correct backdrop***
Proceed through information and pay deposit (via PAYPAL)
Note: For those with non-school age kids, where possible, please choose the week day bookings.
(See TERMS AND CONDITIONS FOR BOOKINGS BELOW)
To see examples of these settings please go to the Christmas Image Gallery HERE
Setting 1 – "The Night Before Christmas"
A cozy, moonlit Christmas Eve room, perfect for cozy pyjamas or your special Christmas outfits.

Friday 23rd October – ONLY 3 SPOTS LEFT
Saturday 24th October – 5 spots left
Book your session appointment here

Setting 2 – "Golden Eve"
A cozy room with glowing sunset through the window for a fun Christmas Eve getting everything ready for Santa….but no peeking at the presents !

Sunday 25th October – 5 spots left
Monday 26th October 
Book your session appointment here

Setting 3 – "Beautiful Boho" (only a few spots left)
A classic light Boho style Christmas fireplace – perfect for your family portraits

Friday 30th October – ONLY 3 SPOTS LEFT
Saturday 31st October  – SOLD OUT
Book your session appointment here

Setting 4 – "Winter Chalet" (only a few spots left)
Rug up for winter and have a snow ball fight… cozy jumpers, beanies and gloves

Sunday 1st November – ONLY 2 spots left
Monday 2nd November – 5 spots left

Terms & Conditions & COVID-safe precautions
Clients must confirm prior to arrival that neither they or their family members have not been exposed to COVID and are not exhibiting any cold/flu like symptoms. Please note you will be turned away if you arrive sick and have not disclosed this to me.
You will be asked to use hand sanitiser upon arrival and throughout the session, if needed.
We will still aim to maintain a 1.5m distance from clients wherever possible, however I will wear a mask where this is not possible.
You will be contacted should there be a large COVID outbreak and lock down instructions issued before the sessions.
Please ensure you have downloaded the COVID-safe app and have it activated
Thorough cleaning of the studio will be conducted between all sessions.
* Cancellations without notice will be subject to loss of the deposit.
* A 50% deposit is required to be paid through the easy online booking system (using Paypal)
* If COVID does lock us down again, the deposit is automatically converted to a gift voucher to be used towards ANY session with me at ANY time in the future.
* Due to the large scale set up and time it takes to build these sets, each set up is being offered for a 2 day period and they not be repeated before Christmas due to other studio client work.